Heartworm disease is caused by a mosquito transmitted parasite. If left untreated, it can be a debilitating disease and sometimes prove fatal. Pets infected with heartworms can be found in all states, in spite of the fact that very effective heartworm prevention products are available. Pet heartworm prevention is extremely important for your furry friend. Unfortunately, most of the time you're not going to see any symptoms, and here's why:
Early signs of heartworm disease in dogs
The development of heartworm disease is insidious until the overt clinical signs occur, and by then the disease has already affected your dog's heart and lungs. Your dog could appear 100% healthy while the parasites are quietly making themselves right at home.
Later signs of heartworm disease
Fatigue
Exercise intolerance
Weight loss
Cough
Sudden death
While none of these symptoms are exclusive to heartworm disease, a dog with heartworm and these symptoms has progressed to the later stage. Heartworm at this stage will require aggressive and expensive treatment.
Is my dog at risk for heartworm disease? 
Yes. Unless your dog lives in a vacuum, they are at risk. Many carrier mosquitoes can survive in a variety of climates and are a year round threat (even in winter) in much of the country. In all likelihood, your dog is bitten by more mosquitos than you.
How can I protect my dog from heartworm disease?
Protection is simple. There are highly effective preventives that stop the development of heartworms in pets. By administering a preventive year-round, the risk of infection is greatly reduced. You can also try to avoid exposure to mosquitoes by keeping dogs indoors, particularly during twilight hours, when mosquitoes are feeding.
Can I test my dog for heartworm disease?
Absolutely, and we encourage testing every year. A negative test result in a dog on year-round heartworm prevention is good news and means the preventive measures are working. However, should your dog test positive, they are infected and will need to be treated.
———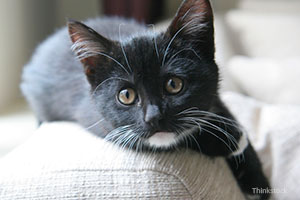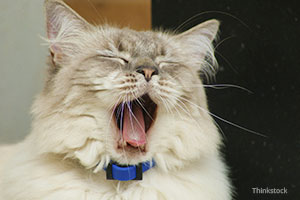 Although dogs are the more natural host for heartworm disease, cats are also susceptible to heartworm infection. It is estimated by the American Heartworm Society that, in any given community, the incidence of heartworm infection in cats is approximately 5% to 15% percent that of dogs who are not on preventive medication.
While the canine and feline versions of heartworm disease share some similarities, there are some striking differences, discussed below within the five feline facts pertaining to heartworm disease.
1. The disease targets the lungs
Most dogs with heartworm disease involve many worms and the heart and lungs are the prime targets for damage. In contrast, only one or two worms are typically present in an affected cat, and the disease takes its primary toll on the lungs. The cat's immune system goes into overdrive in response to immature heartworms located within the lungs and/or fragments of dying, adult heartworms that flow through blood vessels feeding into the lungs. The result of this immune system activity is a whole lot of inflammation that can wreak havoc within the lungs. The acronym HARD (heartworm associated respiratory distress) is used to describe feline lung disease caused by heartworms.
2. Common symptoms of heartworm disease
Common symptoms of heartworm disease include:
Coughing
Rapid breathing
Labored breathing
Decreased appetite
Lethargy
Weight loss
In rare cases, more severe symptoms and even sudden death can occur. One of the most surprising symptoms that occurs in cats with heartworm disease, but not in dogs, is intermittent vomiting that is unrelated to eating.
Not all cats with heartworm disease show symptoms. For those cats who test positive for the disease on routine screening but are free of symptoms, careful monitoring over the course of two to three years (the lifespan of the adult worms) is recommended.
3. Diagnosing heartworm disease
The most reliable screening test for heartworm infection in dogs is called an antigen test. Performed on a blood sample, it detects microscopic particles (antigen) produced by adult, female heartworms. In cats, it's not unusual to have a male only population, given that often only one to two worms are present. Additionally, many cats develop symptoms and are therefore tested when the worms are immature. For these reasons, cats with active heartworm disease often have negative antigen test results. However, if the antigen test is positive, this is proof of heartworm disease.
Because antigen tests could be negative in cats with heartworm disease, it is very important to pair the antigen test with a blood antibody test in those cats showing symptoms. The presence of antibodies means that the cat's immune system has been exposed to the heartworm parasite. A negative antibody test is good evidence that a cat has not been infected. On the other hand, a positive antibody test can mean that either there is an active infection, or the cat experienced heartworm infection in the past. Antibody levels can remain elevated long after the heartworms have died.
The American Heartworm Society recommends that initial screening for feline heartworm disease includes both antigen and antibody testing. If results support the possibility or probability of heartworm disease, ultrasound of the heart and X-rays of the chest to evaluate the lungs are recommended to confirm or deny the diagnosis.
4. There is no treatment to get rid of feline heartworms
Unlike the canine version of this disease, feline heartworm infection is not specifically treatable. Melarsomine, the drug of choice to kill adult heartworms in dogs, is toxic for cats. For this reason, feline heartworm disease is considered to be manageable rather than treatable. Corticosteroids such as prednisone are commonly used for their potent anti-inflammatory effects. Treatment often continues until the adult worms have died and are cleared from the lungs (a two to three year process).
5. Prevention of heartworm disease
Disease prevention is the best strategy, particularly in areas where mosquitoes proliferate. The American Heartworm Society recommends orally administered, once a month preventive medication, beginning at eight weeks of age for all cats in heartworm-endemic areas. Talk with your veterinarian about heartworm in your area. Depending on the weather in a particular region, preventive medication may be recommended seasonally or year-round.
An indoor feline lifestyle is not a guarantee against heartworm infection. In fact, one in four cases of heartworm disease occur in cats that live exclusively indoors.
Feel free to ask us any other heartworm health questions, and together we will work to prevent heartworm contraction in all of your furry friends!